Certified Chevy Service Center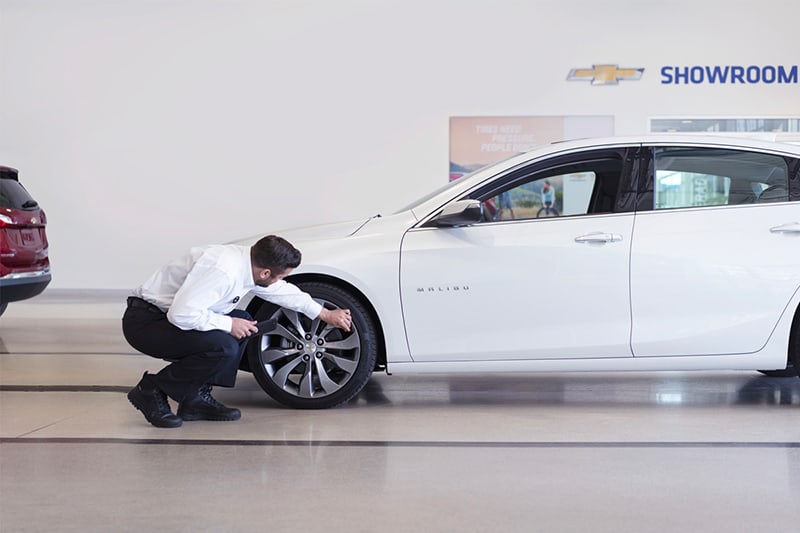 Welcome to the Ruge's Chevrolet service center, the premier location for vehicle maintenance and repairs in Millbrook. Our team of certified technicians can help you with everything from simple routine oil changes to complex diagnostics and repairs. We are committed to each and every customer, providing exceptional service to get and keep your vehicle running smoothly and safely because that's what matters most.
Maintenance for Your Vehicle
Taking Care of Your Tires
One of the most important parts of your vehicle to maintain are the tires, as they are essential to your safety on the road. The most frequent practice should be checking the tire pressure. Having over or underinflated tires can lead to poor vehicle handling and performance, along with increased wear and tear. If your tires continue losing air, though, you should have them inspected for signs of damage, such as cracks or bulges. If these signs are there, it may be time for a replacement, with which our service technicians would be happy to help.
Find Tires
Oil Change Services
Oil changes are essential to the continued operation of your vehicle. If not changed regularly, you can do damage to your engine, reduce fuel efficiency, and even decrease the lifespan of the car. While the required frequency of oil changes depends on factors such as the make and model of your vehicle, the general rule of thumb is to get this maintenance done every 3,000 - 6,000 miles driven. For fast and easy service, you can bring your vehicle to our dealership and we will get it done in no time.
Learn More
Multi-Point Vehicle Inspection
During each service appointment, we will perform a multi-point vehicle inspection. Our experts will run through a list of pertinent functionalities in your vehicle, marking each with our code system. After the inspection, you will receive an outline of the work that does or does not need to be done on your vehicle.
The Multi-Point Vehicle Inspection form uses a simple color-coded key to assess maintenance terms:
Red indicates items that need immediate attention.
Yellow indicates items that should be addressed in the near future.
Green indicates no items to address.
Brake Services
Brakes are one of the most critical safety features in your vehicle. This makes maintenance and service essential, ensuring that they are functioning properly and safely. Over time, the brake pads, rotors, and other components can wear down and become less effective. Therefore, timely replacements are necessary. You will likely need brake service every 25,000 to 50,000 miles, but this isn't necessarily a set rule. You should always have your brakes checked if they are squeaking or don't seem responsive, and we are happy to do that for you right here at our Chevy service center.
Learn More
Battery Replacements
Your vehicle's battery provides the energy needed to start the engine, along with all of the interior features. But batteries don't last forever and can be impacted by both the summer heat and the winter cold. Regardless, most vehicle batteries last between 3 and 5 years. If you are having trouble starting your car or using any of the interior components of your car, you may be due for a battery replacement. Swing by our service center and we will check it out for you.
Learn More
Contact Service
Service: (845) 219-5268
Parts: (845) 677-3406
3692 Us-44, Millbrook, NY 12545