The Powerful 2022 Chevy Pickup Truck Lineup is Better Than Ever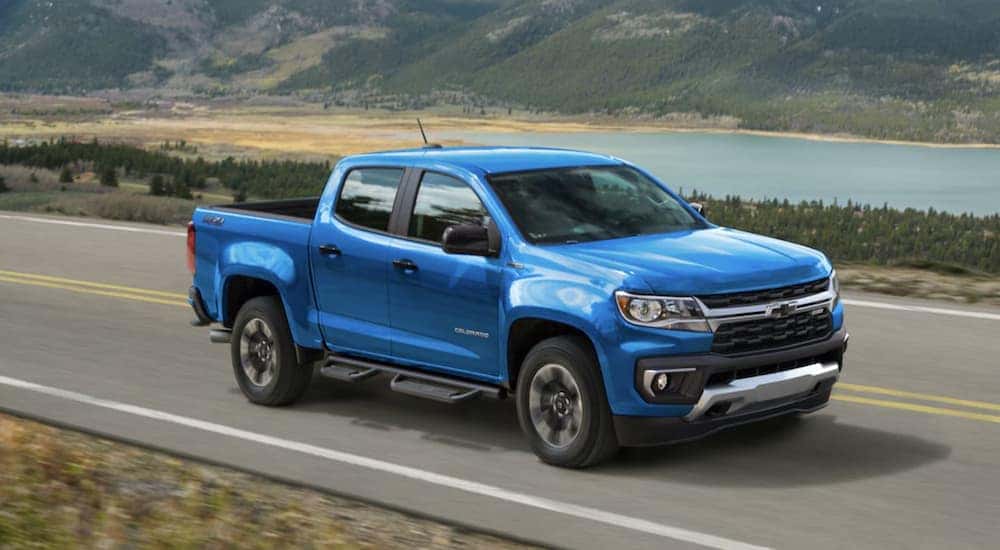 If you've been considering a Chevy truck, now's a perfect time to buy. Never before has America's largest automaker offered such a dynamic lineup of midsize, full-size, and heavy-duty pickups like the ones you'll find this model year. Simply make the journey to Ruge's Chevrolet, your local Chevrolet dealer, and you can see for yourself.
2022 marks a year of major technological advancements for the Silverado pickup, along with huge gains in the popular pickup's capability. It's no wonder Chevy calls it "the strongest, most advanced Silverado ever," and it's why your plans should include a test drive if you're seeking max power and utility. Even Chevy's heavy-duty lineup sees an upgrade for 2022, so if you need a truck with true grit, consider a Silverado 2500 HD or 3500 HD.
The midsize truck category isn't overlooked either, thanks to the rugged 2022 Colorado. Available in a rainbow of eye-catching colors and offering nearly the same capability as its larger sibling, the Silverado 1500, the Colorado is a great choice for space-challenged buyers or those desiring a pickup truck body style without the extra bulk. Here's what else is new for 2022 in the Chevy truck lineup.
The 2022 Colorado
For so many buyers who love the pickup body style, committing to a full-size version just isn't possible. That's where the 2022 Chevrolet Colorado comes in. As a midsize pickup, the Colorado offers less bulk without compromising capability. Whether you're a weekend off-roading enthusiast or you need a truck for the job site, Chevy has an affordable Colorado trim that can get the job done.
The Colorado is a study in contrast. It starts in the $25,000 range, yet it still offers up to 7,700 pounds of towing capacity. The Colorado even delivers a fuel-sipping 20 MPG city and 30 MPG highway if you opt for the available diesel engine. In total, Chevy gives buyers a choice of three different powertrains: a 2.5-liter four-cylinder that pumps out 200 horsepower and 191 lb-ft of torque, a 275-horsepower 3.6-liter V6 that makes 275 lb-ft of torque, and a torque-rich 2.8-liter Duramax turbo-diesel.
Buyers that opt for the available Duramax diesel engine are rewarded with 181 horsepower and a whopping 369 lb-ft of torque. This surprisingly fuel-efficient powertrain gets you the Colorado's best-in-class max towing capability of 7,700 pounds with ease, and it costs surprisingly little to add. The diesel is even available on all four Colorado trims.
Speaking of trims, buyers can choose from the base WT (Work Truck), the value-oriented LT, the Z71, or the ZR2. Both the Z71 and ZR2 trims put the focus on off-roading, coming with specially-tuned suspensions and equipment designed to weather even the most punishing trail. Add the available Bison package to the ZR2, and you'll get skid plates and custom-made AEV bumpers to optimize trail utility.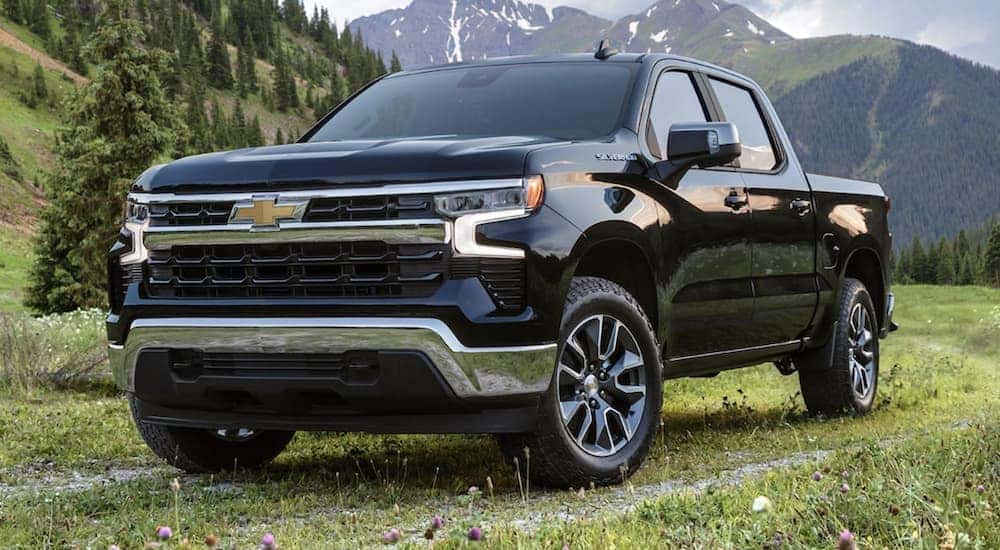 The 2022 Silverado 1500
Not many things in life are no-brainers, but if your future includes buying a full-size pickup, choosing a Silverado 1500 will get you close. The Silverado continues dominating the full-size truck category in 2022, with its 13,300-pound max towing capability and multi-engine powertrain lineup. The range spans from a new High-Output turbocharged four-cylinder to a mighty Duramax inline-six, so dialing in the exact power you need is easy.
Technology abounds in the newest Chevy Silverado 1500, particularly when it comes to trailering. The 15 available camera views help with everything from hook-up to on-the-road monitoring, with easy data access via the cabin's robust touchscreen and even your own smartphone. It's the category's first-ever Advanced Trailering System, and it's only available on the Silverado. The system adds a whole new level of safety and simplicity to trailering.
Also unique to the Silverado is its available Multi-Flex Tailgate, offering six different positions for unlimited functionality. The tailgate simplifies bed access by transforming it into a handy full-width step. It can also function as a mobile workspace and even a gate stop for longer cargo. The bed itself offers the most cargo volume in its class, at 89.1 cubic feet, and includes 12 standard tie-downs and available power up/down tailgate control.
Level up the luxury with a Silverado 1500 High Country. The High Country's cabin feels more like something you'd find on a premium German import than a work-ready pickup truck. It features premium leather seating, real wood accenting, and a generous sprinkling of tech and infotainment features. For those who love touchscreen functionality, the High Country's standard 13.4-inch touchscreen with Apple CarPlay, Android Auto, Amazon Alexa, and Google Voice Assistant compatibility will more than suffice.
The 2022 Silverado HD
The toughest work requires equally rugged tools to get the job done right. That's why Chevy builds grit and capability into every Silverado 2500 HD and 3500 HD commercial-grade pickup that rolls off the assembly line. Offering 18,510 pounds of max towing capability, the 2500 HD is as tough as they come––almost. The crown goes to its larger sibling, the 3500 HD, which offers a 36,000-pound max towing specification.
These rigs come by their incredible capability via two powerful engines. The standard 6.6-liter gasoline V8 makes 401 horsepower and 464 lb-ft of torque and is mated to a durable 6-speed transmission. For more power, an optional 6.6-liter Duramax Turbo-Diesel V8 outputs 445 horsepower and 910 lb-ft of torque, most of which is available at lower gears, thanks to the companion 10-speed Allison transmission.
The Silverado HD pickups also make good use of their oversized beds. Chevy's Durabed construction means long-term endurance. Go ahead and load it with payload and then add some more, because these trucks offer the most cargo volume of any HD truck in the segment. Consider adding the available LED cargo lightings and a 120-volt outlet for even more functionality.
You can choose from five different Silverado HD trims: the WT, Custom, LT, LTZ, or the plush High Country. You'll also get to choose your cab style and bed length for a fully-customized rig. Looks still matter when you're covered in mud, which is why the Silverado HD features a restyled grille with an aggressive, nearly 90-degree angle that conjures images of eighteen-wheelers in your rearview mirror.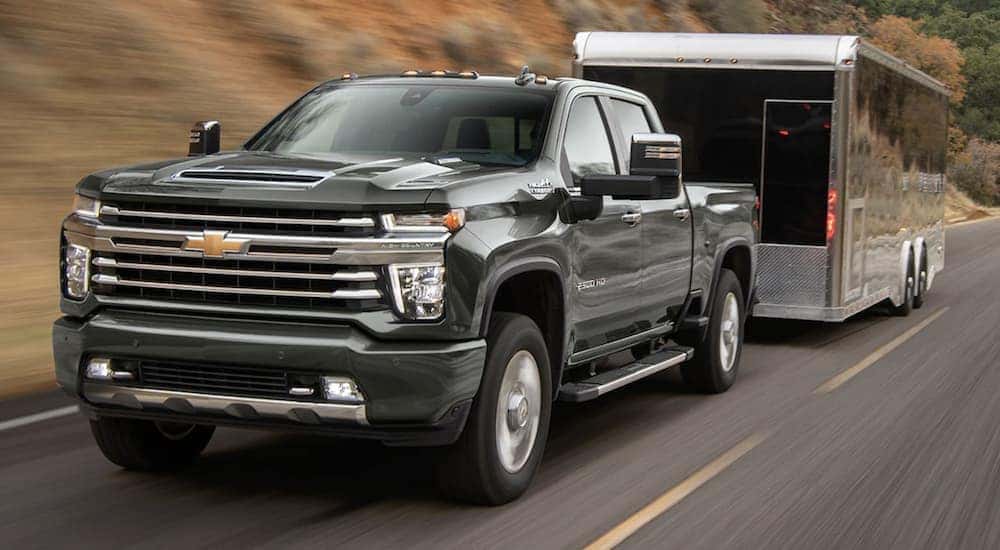 Chevy Has a Truck for Every Job
Let's face it: buying a pickup of any size is an investment. No matter your reasons for buying, from tackling backcountry trails to running your growing business, pickup trucks offer a level of utility not found on any other vehicle. Luckily, Chevy's 2022 lineup lets buyers choose from a variety of sizes and configurations at just about every price point.
When you choose a Chevrolet pickup truck, you're joining a family of owners who feel a fierce sense of brand loyalty. That loyalty is well-deserved since you won't find a more rugged lineup anywhere else. From diesel powertrains to class-leading capability, there's a lot to discover. But with such a diverse lineup, finding a truck for your specific lifestyle, budget, and needs won't be hard.
Whether you are interested in the midsize Chevy Colorado, the flagship Silverado 1500, or a mighty Silverado HD, you can find the best trucks on the market right here at Ruge's Chevrolet. Within each truck's lineup, you'll also find plenty of options for true customization, because Chevy believes truck buyers deserve freedom of choice.
Which Chevy pickup is right for you? Choose the 2022 Colorado for its manageable midsize dimensions and diverse trim range, or size up to the full-size Silverado 1500 for even more class-leading capability, both on the road and off. Slide the scales to heavy-duty with a commercial-grade 2500 HD or 3500 HD when only the most capable tower and hauler will do. There's never been a better time to upgrade your rig.