The Chevy Silverado 2500 & 3500: An HD Buying Guide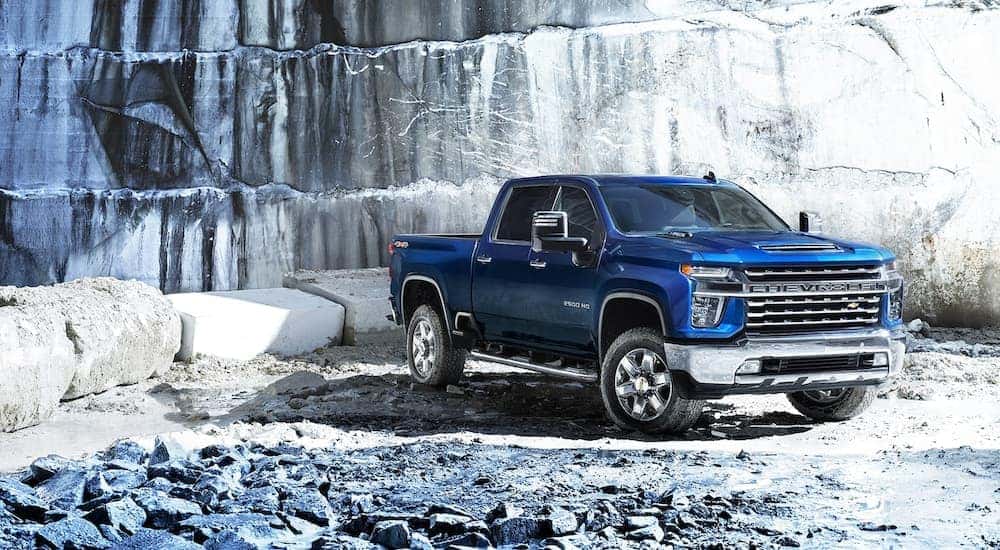 Few brands have the reputation that's synonymous with Chevy. For over a century, the bowtie brand has been instrumental in shaping the automotive industry with exceptional vehicles that push boundaries. A prime example of Chevy's commitment to its customers and meeting their ever-changing automotive needs is its Silverado line. Chevy trucks are designed with a wide range of drivers in mind, from those who like using a truck as a daily driver to people who use their truck to get work done.
As your Chevy Silverado dealer, we see tons of different buyers come in looking for a truck to handle their heavy workload, and we usually direct them to the Chevy Silverado 2500 and 3500 HDs. The heavy-duty variants are the trucks American workers put their trust in when they need a vehicle that can handle towing and hauling with ease. What are the differences between these two models, and what can you expect from a heavy-duty truck? We're here to break it down for you.
Examining the Cost
Any truck that has an "HD" designation is an investment; however, for a truck that exudes prowess, performance, and power, one can expect to get their money's worth. The 2022 Silverado 2500 HD starts at around $38,500, and the 3500 HD has a starting price of $39,700.[a] This is considerably less than competing models such as the Nissan Titan XD and the Ram 2500/3500.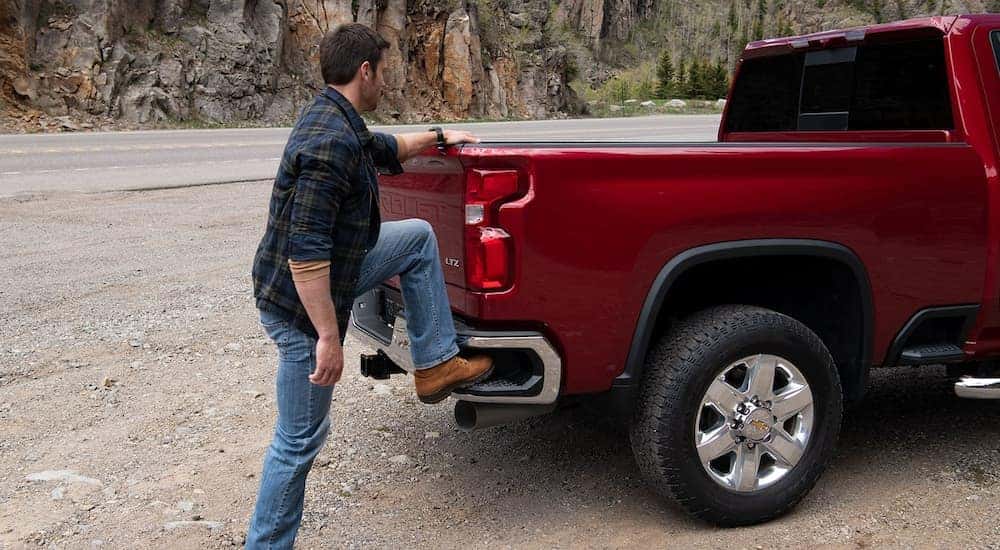 Breaking Down the Trim Levels
When you are at a Chevy dealership in Millbrook, you will come to notice that Chevy's HD trucks have five available trim levels, which are tailored for different drivers and their respective tastes. On the low end of the spectrum is the WT, which is stripped down and ideal for the job site. Those with more refined tastes can opt for the High Country, which has all the trimmings and trappings of a high-end luxury vehicle.
Choosing the right Silverado HD requires careful consideration of what's best for you. It becomes a balancing act of what you need measuring against what you want. Practicality should be taken into consideration, but you'll also want to own and operate something that you enjoy and provides you with the comfort and amenities that make any commute worth undertaking. The Silverado HD comes in a variety of trims, each one having its own unique advantages and benefits.
WT
The introductory trim is ideal for drivers who only use their Silverado for work and doesn't want any extra features. However, just because it's the base level trim doesn't mean it's without its benefits. The standard seven-inch infotainment system is compatible with both Apple CarPlay and Android Auto, providing you with the necessary entertainment for when you're on the job site. If you're the trailering type, you'll also have hitch guidance to make those jobs less stressful.
Custom
This trim is only available for the Silverado 2500 HD. If you're willing to pay a little more but still want to remain within a cost-effective price range, then the Custom trim might be ideal for you. While it contains many of the same attributes as the WT, there are a few noticeable upgrades that are impossible to ignore. If you're someone who enjoys straying off the pavement, then the standard all-terrain tires and alloy wheels will satisfy your off-roading appetite.
LT
The LT is the ideal compromise between the practicality of the two introductory trim levels and the sophistication of the upper ones. With its chrome bumpers, the LT makes an impression on anyone who looks at it. It's a classic style with all of the capability you need to get the job done.
LTZ
Here's where things get a lot more refined. First off, heated leather seats are standard, as are LED head and tail lights. You'll also get some nice standard comfort features like dual-zone automatic climate control and a ten-way power driver's seat with two-way power lumbar. You'll also be able to upgrade to an eight-inch infotainment display screen.
High Country
Here we are; the top-of-the-line and the epitome of luxury and sophistication. The High Country trim has everything you could possibly ask for. From the standard four-wheel drive, twenty-inch chrome wheels, and a seven-speaker premium audio system, you'll exude luxury inside and out. You'll also have more peace of mind than ever, thanks to standard driver-assist features such as Lane Change Alert with Side Blind Zone Alert and Rear Cross Traffic Alert.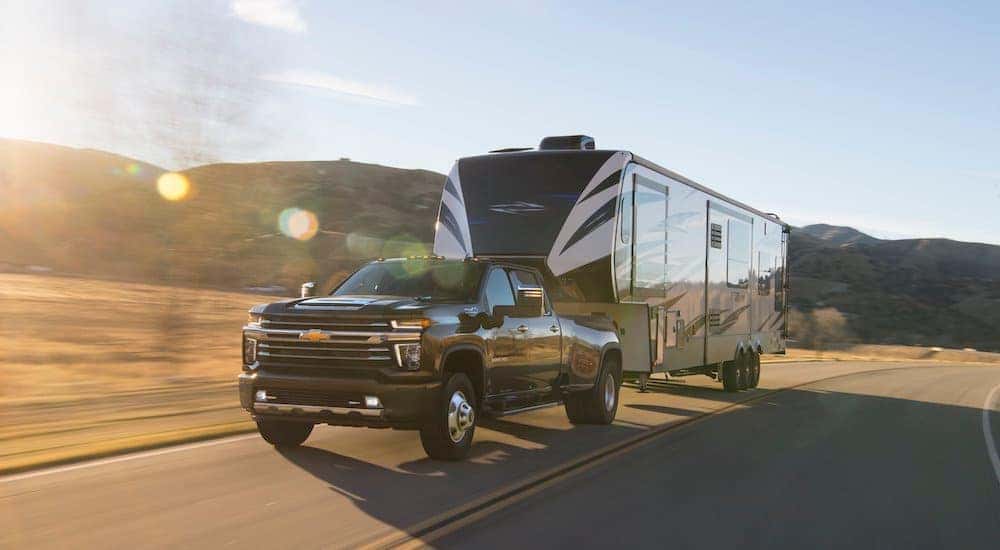 Powertrains & Capability
Of course, a big, beefy truck capable of moving heaven and earth needs a larger-than-average engine and transmission to propel it forward and allow it to get the job done. Depending upon your workload, this is one of the most important choices you'll make when it comes to selecting the right truck. Any mechanic will tell you that you need the right tool for the job, and here's where the selection process becomes imperative.
A common ground that the 2500 and 3500 share is that they have the same two engine options. The standard offering comes in the form of a 6.6L gasoline-powered V8. With 401 horsepower and an impressive 464 lb-ft of torque, there's something to be said about the power of petrol. The gasoline engine is paired with a six-speed automatic transmission, which is more than capable of handling whatever life throws your way. A relative newcomer, the 6.6L has been a part of the Chevy fleet since its introduction for the 2020 model year.
Depending upon which model of the Silverado HD you go with, the gasoline-powered engine will certainly prove to be an efficient workhorse. The 2022 Silverado 2500 HD can pull 14,500 lbs in conventional towing, a number that increases up to 17,370 when using a fifth-wheel/gooseneck hitch. The capabilities do change somewhat when the same powertrain is paired with the 3500 HD. Conventional towing increases to 16,800 lbs, but fifth-wheel/gooseneck decreases slightly to 17,200 lbs. (Still a formidable number, no matter how you look at it.)
The Silverado HD doesn't limit itself to gasoline-powered engines, and if you have a preference for diesel, this truck has you covered. The 2022 Silverado HD trucks can be equipped with the 6.6L Duramax Turbo-Diesel V8 engine. Outclassing the gasoline-powered option in performance, the Duramax boasts 445 horsepower and puts other powertrains to shame with the capability to generate 910 lb-ft of torque, all while functioning at low RPMs. This diesel dynamo is paired with a ten-speed automatic transmission, allowing for maximum performance and conservative fuel consumption.
Specifications aside, the work capabilities of a diesel-powered 2022 Silverado are nothing short of remarkable. When equipped with the diesel powertrain, the 2500 HD's conventional towing capacity maxes out at an impressive 18,500 lbs, while the 3500 HD can pull 20,000 lbs. Fifth wheel/gooseneck trailering with the 2500 HD only brings you up to a max of 18,510 lbs of towing, but the 3500 HD surpasses all expectations with a maximum rating of 36,000 lbs.
Whichever Choice You Make, Ensure it's the Right One.
Choosing which vehicle you will rely on daily is an important decision. You're not just acquiring a method of transportation; you're investing in one of the most important tools you'll ever utilize on the job site. You need to make sure your truck is going to be able to keep up with you, and you can do that by investing in one of the Chevy Silverado HD models. No matter what trim and, therefore, what amount of comfort and convenience features you get, the Silverado 2500 and 3500 are still going to be able to get down and dirty. So whether you need a model that can handle family hauling during the week and adventure gear hauling during the weekend, or you need something to transport loads of wood and gravel, the Silverado HD can handle it. Contact us at Ruge's Chevrolet today to set up a test drive.
---
[a] MSRP may change without notice. See dealer for complete details.