Let's Find You the Right Chevy Silverado!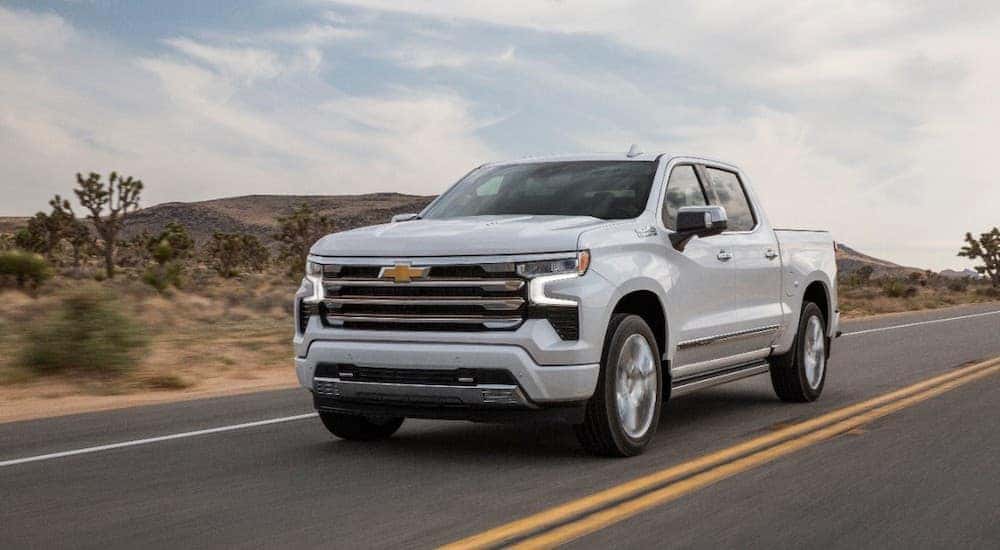 The current generation of the Chevy Silverado kicked off just a few years ago, but the 2022 Silverado has been redesigned and updated with a fantastic selection of new features. As your Chevy Silverado dealer, we're passionate about everything this amazing truck can offer, but we also know that all of these options can get a bit bewildering. Today, we thought it would be fun to go over the different choices you have when shopping for a Silverado and highlight some of the best features you should keep in mind when buying your next pickup. With this 2022 Silverado buyer's guide, you'll be able to decide on which features will work best for you.
Engine Options
When the current generation of the Silverado launched several years ago, we saw more engine options than ever before. With the 2022 model, however, Chevy has streamlined the options to provide you with fantastic choices while also making things a bit simpler. We're impressed by everything Chevy has done with the 2022 Silverado, but one of the truly standout features is the new and improved starting engine on this model. It's a 2.7L Turbo High-Output engine that delivers 310 hp and 430 lb-ft of torque––that's a 24% increase in torque from last year's 2.7L Turbo. This is one of the best starting engines you'll find in any truck on the market, and it makes for amazing performance across the Silverado lineup.
If you want more power, there's an available 5.3L EcoTec3 V8 engine that delivers 355 hp and 383 lb-ft of torque. Two versions of this engine are offered by Chevy: one with Dynamic Fuel Management to help boost your fuel efficiency and one without, so you can get exactly what you want. Finally, for ultimate performance with the Silverado, there's a 6.2L EcoTec3 V8 engine that roars to life with 420 hp and 460 lb-ft of torque. You also have a diesel engine available, of course: a Duramax 3.0L Turbo-Diesel that delivers 277 hp and 460 lb-ft of torque. No matter which engine you choose, you'll get a fantastic driving experience, but your choice of powertrain will impact the kind of capability your truck can deliver.
Towing Ability
The engine isn't the only thing that affects how much weight a Silverado can pull behind it, but it certainly has a major impact on towing. Just keep in mind that you have numerous options available beyond the engine and they can all affect how much towing you can handle. All four engines are available with either two-wheel drive (2WD) or four-wheel drive (4WD), and you have three cab sizes available: a Regular Cab, a Double Cab, and a Crew Cab. Each of these choices will affect your maximum towing, but there are also strict limits on what you'll be able to manage based on the engine, so that's what we'll primarily focus on.
First, let's look at the maximum towing capacity for each of the four engines:
2.7L Turbo: 9,500 lbs
5.3L V8: 11,200 lbs
6.2L V8: 13,300 lbs
3.0L Diesel: 13,300 lbs
You can see that even with the standard engine, you're getting impressive towing capability that can handle a lot of weight––though the difference made by choosing one of the available engines is certainly significant. One of the biggest improvements for the 2022 model is that chassis changes to the Silverado mean the max tow package is now available with the diesel engine. This has increased the towing capacity of the diesel by nearly 4,000 lbs compared to last year's model and allows it to now match what the most powerful V8 engine can handle. If you're interested in a diesel truck, this is a huge boost in capability for a solid engine that has been loudly praised by experts ever since it was first introduced.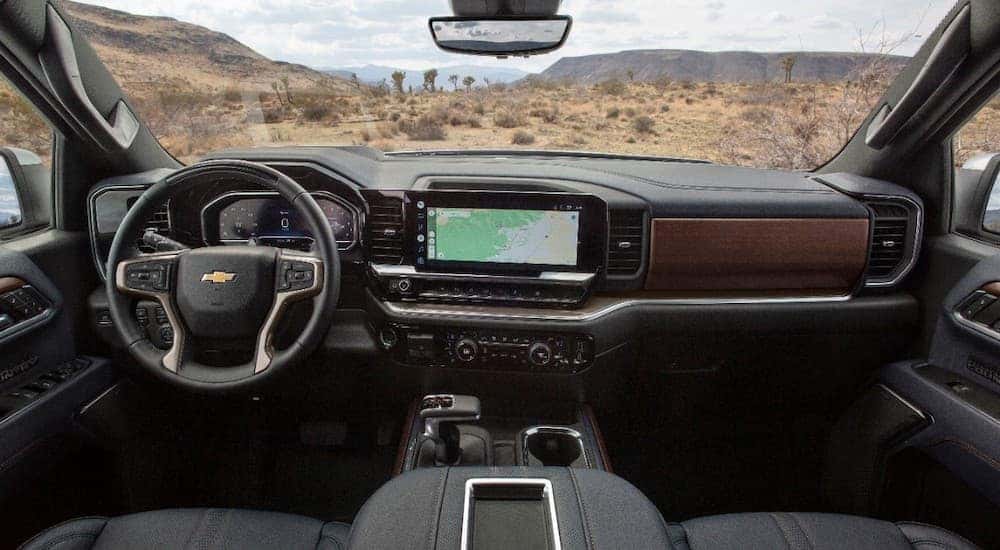 Redesigned Interior
There are nine trims available for the 2022 Silverado; six of these have received an updated and redesigned interior––only the WT, Custom, and Custom Trail Boss still have the older interior. The LT and higher trims have a refreshed interior that looks stunning and incorporates new materials and technology. This updated interior is built around a new 13.4-inch infotainment display that's tilted toward the driver, making it easier for you to see and use. You also get a 12.3-inch digital instrument cluster in this refreshed interior, plus a new center console with an available electronic shift controller––both of the large displays are standard on all trims with the updated interior.
The overall look and feel of the interior have also been refreshed on these models to include new available colors, seat designs, and a wide range of premium materials. Although you'll find this updated interior in six of the Silverado's trims, the top-level High Country trim really shows off this update better than any other. With the High Country, you get open-pore wood trim on the console, doors, and other areas, standard leather seating with exclusive custom perforation and stitching, stainless steel speaker grilles with the Bose premium audio system, and two gorgeous interior color options. Honestly, the Silverado has never looked better, and that's really saying something.
Enhanced Exterior
Chevy's designers didn't solely focus on the interior; the outside of the 2022 Silverado has also been updated. The style of the 2021 Silverado was already bold and impressive, but the 2022 models that you will find at your Poughkeepsie Chevy dealer feature a new front fascia and grille design with lower headlamps to reinforce the muscular look of the truck. Trims that feature the new interior also feature revised wing-shaped daytime running lamps that now have animated lighting sequences that activate when you approach, start, and walk away from your truck. While Chevy has updated the exterior, it hasn't messed with what worked: you can still get its industry-first power up/down tailgate and six-position Multi-Flex tailgate for fantastic functionality.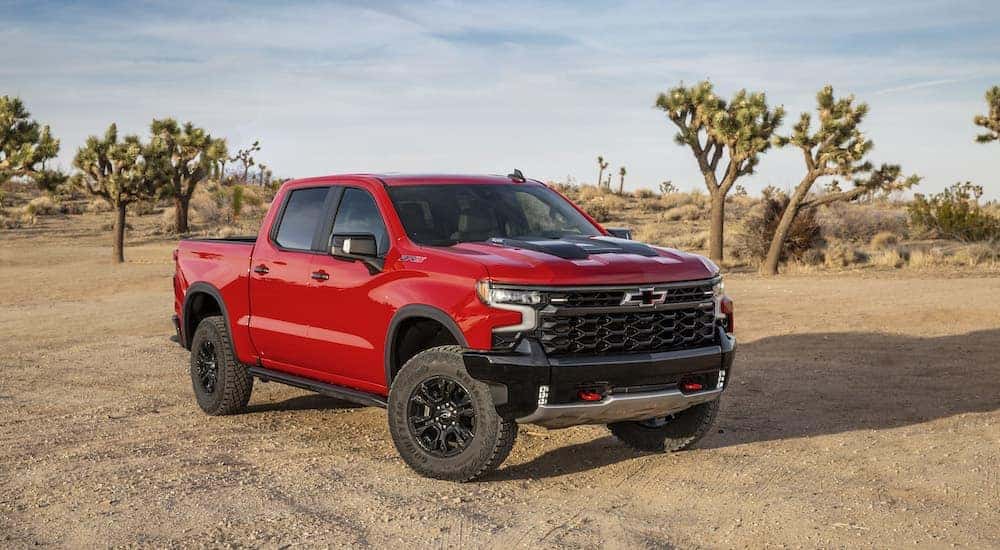 First-Ever Silverado ZR2
For many years now, the Silverado has been one of the most popular full-size trucks for off-roading, thanks to its Trail Boss trims and Z71 Off-Road Package. But Chevy is never content with simply being the best and is always pushing itself further, so the 2022 model showcases the first-ever ZR2 trim for the Silverado. The ZR2 has been an award-winning off-road option for the midsize Colorado for quite some time, so it's incredibly exciting to see it come to the Silverado.
The ZR2 features the 6.2L V8 engine standard, Multimatic DSSV spool-valve dampers, and uniquely-tuned springs that pair with the dampers to increase front and rear suspension travel beyond even the Trail Boss models. It also has unique skid plates, 33-inch off-road tires, and a specific off-road chassis. Plus, you get Chevy's Terrain Mode technology, which allows for one-pedal rock crawling, making this the ultimate full-size truck for the trail.
Super Cruise Technology
There's so much good stuff coming with the 2022 Silverado that it's easy to overlook one very important addition: available Super Cruise technology. Super Cruise is Chevy's cutting-edge hands-free driving system that currently functions on more than 200,000 miles of roads across the US and Canada. Not only is the 2022 Silverado the first time that Super Cruise has been offered on a Chevy truck, but the feature includes towing functionality so you can drive hands-free while pulling a trailer behind you.
Putting Together Your Chevy Silverado
You can see that the 2022 Silverado is better than ever, with amazing new features that take this innovative pickup to the next level. Now all that's left for you to do is to choose the right options and build the perfect Silverado to meet your needs. With four engines, three cab configurations, nine trims, and countless other options, selecting the ideal combination can be a little tricky––but that's why we're here. Contact us or come by for a visit at Ruge's Chevrolet today, and we'll help you put together the Silverado that's right for you.