Exploring Your Used Silverado Options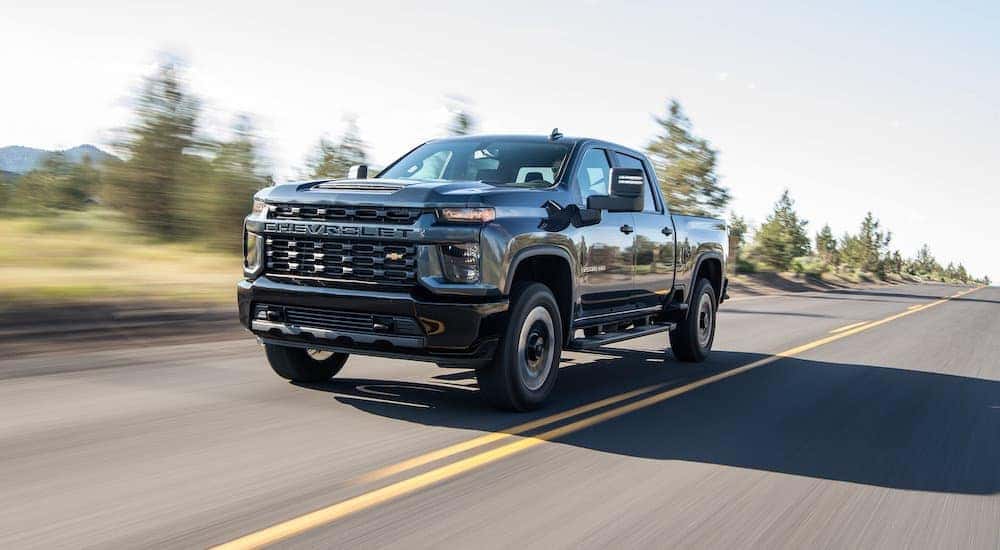 For more than 100 years, Chevy has been making the most powerful and impressive trucks on the road. While you're not going to find anything quite that old at your used Chevy dealership, you'll still discover a fantastic selection of different models and options when looking for a used Chevy truck. Most of the models you'll find will be from the last decade or two, which means they'll include the Chevy Colorado and the various Silverado models as used options. Having all of these different trucks to choose from is great, but it can also get a bit confusing when you're trying to figure out which one has everything you need.
Today, we're going to take a look at some of the options available if you're interested in a used Chevy truck: the Silverado series. You'll find a number of different Silverado models available at a used dealership. Not only different model years and trims but also different designs such as the Silverado 1500 and Silverado 2500 HD. Keeping track of all of these options can be tricky, so let's take a look at the major differences between these two Silverado pickups.
An Overview: Chevy Silverado 1500 vs Silverado 2500 HD
We'll get into some specifics so you can really see the differences between these Chevy Silverado models, but first, let's go over things quickly to get the basic idea. Both the Silverado 1500 and the Silverado 2500 HD are full-size trucks that are built on similar platforms, so you might mistake them for each other if you're not paying too much attention. They're both larger than the midsize Chevy Colorado and designed to handle more work than that smaller pickup; you'll also find a lot of similarities inside the Silverado models in terms of the kind of features and technology available in them.
That's where most of the similarities end, however, as the major distinction between these two Silverado pickups is how much work they're designed to handle. Although these are both full-size models, the Silverado 1500 is a "half-ton" light-duty truck while the Silverado 2500HD is a "three-quarter-ton" medium-duty (though the "HD" in its name stands for "Heavy Duty") pickup. The Silverado 2500HD is fundamentally designed to handle more weight, both in terms of payload and towing, than the standard Silverado 1500. Let's take a look at just how much more weight the 2500 HD can handle…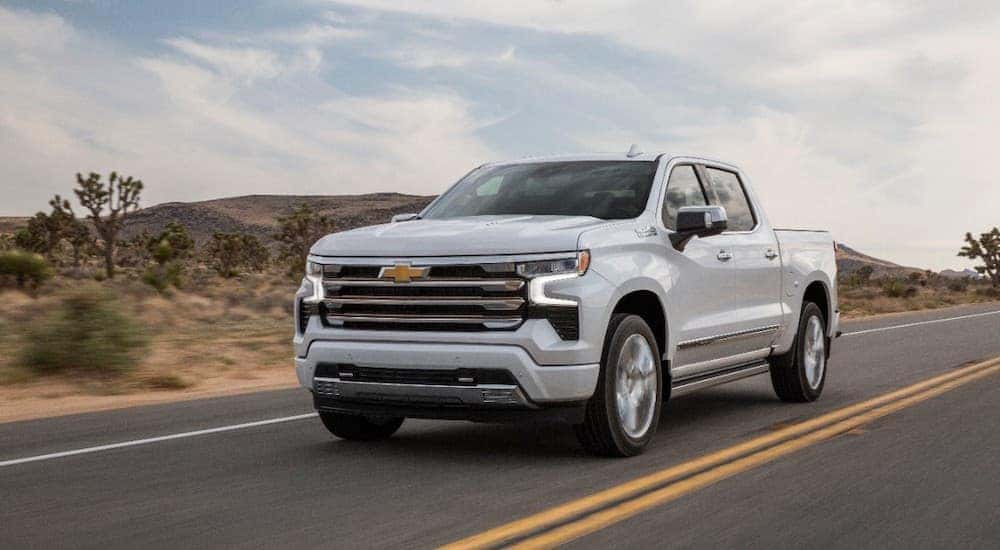 Differences in Towing Potential
We'll get into some specifics here in a moment, but the overall thing to remember is that across the board, the Silverado 2500 HD can handle more weight than the Silverado 1500. You might be able to find some specific used models where the Silverado 1500 has the right combination of features for optimal towing, and a 2500 HD has different options and therefore lower towing capacity, but comparable models will always end up with the medium-duty truck giving you greater capability.
To make this even clearer, let's look at the maximum towing capacities for two examples of these trucks. We'll look at both conventional towing using a rear hitch and also gooseneck/fifth-wheel towing to see how the numbers compare. For the sake of illustration, we'll also look at the numbers for two different years and generations for these trucks, 2018 and 2020, for both of these models. Their maximum towing capacities for those model years were:
2018 Silverado 1500
Conventional Towing: 12,500 lbs
Fifth-Wheel Towing: 11,600 lbs
2018 Silverado 2500 HD
Conventional Towing: 14,500 lbs
Fifth-Wheel Towing: 18,100 lbs
2020 Silverado 1500
Conventional Towing: 13,400 lbs
Fifth-Wheel Towing: 11,500 lbs
2020 Silverado 2500 HD
Conventional Towing: 18,500 lbs
Fifth-Wheel Towing: 18,500 lbs
As you can see, the numbers are pretty significant, especially when you start looking at the kind of fifth-wheel or gooseneck towing that the Silverado 2500 HD can handle. Keep in mind that these are maximums with the ideal engine and overall configuration, so not every used Chevy truck you find will be able to handle this kind of weight. Always look at the specific details for any pickup you're interested in to see what kind of capacities it can handle.
Differences in Engine Options
One of the biggest differences between these two trucks, particularly for certain model years, is the engines that they have been available with. The Silverado 2500 HD has incredibly powerful engines available, often more powerful than what you can get on the Silverado 1500, but the tradeoff is that it usually has fewer options available to choose from. This makes sense since the Silverado 2500 HD is typically designed and used as a dedicated work truck, while the Silverado 1500 is a fantastic all-around pickup. If you're looking for something to help you with work, play, and everything in between, then the 1500 is probably the right one for you, as long as it can meet your towing and payload needs.
The differences in the kinds of engines you'll find on these trucks can be pretty significant; for example, here are the engines available on the 2020 Silverado 1500:
4.3L V6: 285 hp and 305 lb-ft Torque
5.3L V8: 355 hp and 383 lb-ft Torque
2.7L I-4: 310 hp and 348 lb-ft Torque
6.2L V8: 420 hp and 460 lb-ft Torque
3.0L Turbo-Diesel: 277 hp and 460 lb-ft Torque
By comparison, these engines were offered on the 2020 Silverado 2500HD:
6.6L V8: 401 hp and 464 lb-ft Torque
6.6L Turbo-Diesel: 445 hp and 910 lb-ft Torque
You can see that the engine options between these trucks are significantly different, as we said, both in terms of performance and what's offered. This can have a real impact on the sorts of engines that you'll find when you shop for a used Chevy truck since you'll find most or all of these across what's on the market. The engine in a used 2500HD will definitely be powerful, and you can find both gas and diesel out there, but there's a lot less variation between them compared to Chevy's light-duty pickup.
Differences in Size
Although both of these trucks are full-size models, there are actually still some differences in the sizes of the Silverado 1500 and the 2500 HD. Both of these trucks have a number of different cab sizes and bed lengths available, with a lot of similarities between them but also some differences in the configurations you can choose. For example, you can find a 2018 Chevy Silverado 1500 with a regular cab and a 6-foot or an 8-foot box, but the 2018 Silverado 2500 HD with a regular cab was only offered with an 8-foot bed. This can make a big difference in what you can load up your truck with, so keep that in mind while looking at used models.
Similarly, there are some overall differences in size due to design. For example, looking at the 2020 Silverado trucks, the Silverado 2500 HD is generally longer overall than comparable 1500 models and typically stands a bit taller. The differences aren't massive, but still noteworthy.
Remember to Consider Model Year
One of the most important differences between these Silverado models is the way in which they are released each year, especially as you look at their generations. The Silverado 1500 launched its first generation for the 1999 model year, with its second generation starting in 2007, the third generation in 2014, and its fourth generation in 2019. By comparison, the Silverado 2500 HD launched in 2001, with a second generation in 2007, a third generation in 2015, and a fourth generation kicking off in 2020. You can see the differences aren't tremendous, but for certain years you will find completely different generations between these two trucks.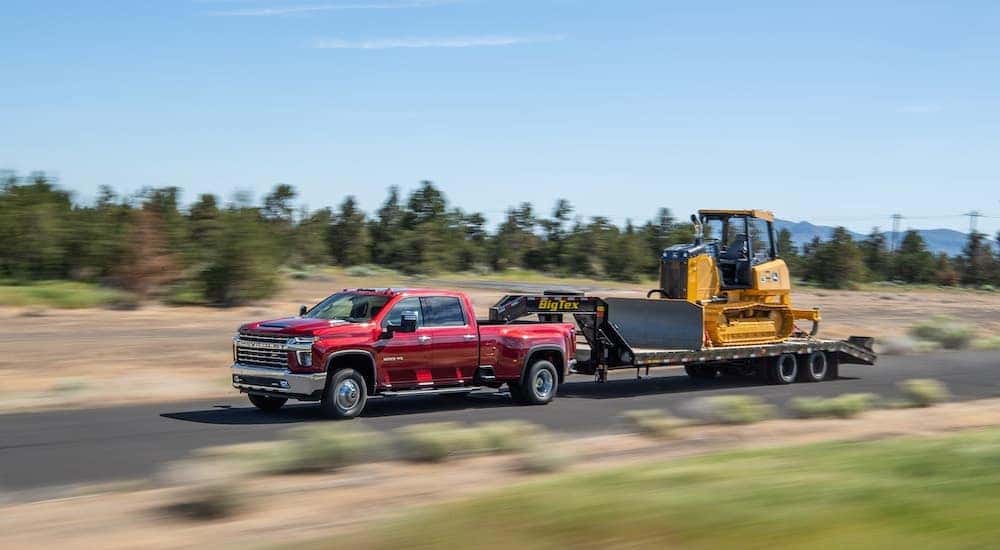 Other Options: The Silverado 3500HD
Of final note is the fact that these aren't the only two Silverado models available from Chevy; they're joined by a larger sibling in the Silverado 3500 HD. This is a heavy-duty pickup with even greater towing and payload capacities than the 2500HD, particularly if you're interested in fifth-wheel or gooseneck towing. The 3500HD is also available with a dual-rear-wheel setup that provides the greatest towing potential overall: up to 35,500 lbs for gooseneck towing with a 2020 model. So if neither of the Silverado models we've looked at has the kind of muscle you need, then take a look at the 3500 HD and everything it has to offer. Contact us today to set up a test drive or to learn more!